Most people have a job they go to on a daily basis. And they have such busy lives they don't have time to think about what to take to work the next day for lunch. So, they end up going to the nearest drive through and snacking on foods that will satisfy their hunger but they are pretty toxic. It's hard to plan ahead and make food for lunch the next day ahead of time. You can even purchase handy lunch containers like these ones.
I am going to share with you a list of super easy to make lunches that are healthy and they will satisfy your hunger. No cooking necessary.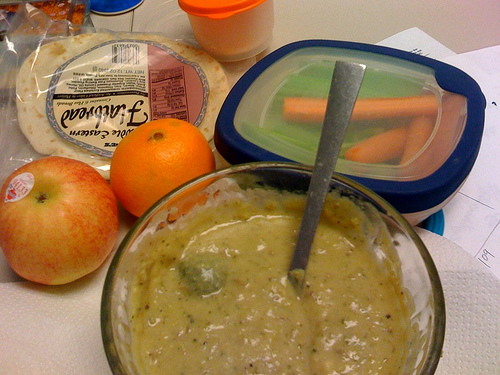 1. Adult Lunchable – Cheese slices or cubes, salami slices, whole wheat crackers and apple slices. If you have one of those tupperware pieces that have divided cubbies that is great, but mini ziplock's work well for this type of lunch too.
2. Mediterranean Adult Lunchable – Hummus dip, pita chips, carrot sticks, cucumber sticks and a side of grapes. These can also be conveniently stored in ziplock's.
3. Tuna Salad Sandwich – Mix a can of tuna (in water) with low-fat mayo, pickle relish and a dash of mustard and spread onto whole wheat bread. Store easily in a ziplock or tupperware container.
4. Salads! – The options are endless with salads. Any raw veggies (salad greens, spinach, cucumber, tomatoes, carrots, mushrooms, red bell pepper, etc), canned beans (drained and rinsed), nuts, seeds, cheeses, fresh fruit, dried fruit, tofu cubes and cooked meats such as grilled chicken or tuna. The list goes on and on. Find what you have in your fridge, chop if needed and throw in a container.
5. Mediterranean Wrap – Whole wheat tortilla, hummus, sliced olives, sliced tomatoes, spinach, and feta cheese – spread the hummus on the tortilla and layer the vegetables and sprinkle with the cheese. Roll up and store in a ziplock. Bring along a cup of greek yogurt and an apple for a little snack.
6. Peanut Butter + Banana Sandwich – Spread peanut butter on whole wheat bread, layer banana slices on top and there you have a super yummy sandwich! Bring along some carrot sticks and yogurt as a side. Store easily in a ziplock or tupperware container.
7. Mexican Pita – Add some refried beans, salsa, shredded cheese, lettuce and guacamole to a pita.  Have some carrot sticks or an apple on the side. Store easily in a tupperware container.
8. Turkey wrap – In a whole wheat tortilla first spread the tortilla with some low-fat cream cheese, then wrap the following –  low-fat & low sodium turkey slices, tomato slices, lettuce leaves, swiss cheese and cucumber slices. Great with a cup of berries on the side. Store easily in a ziplock or tupperware container.
9. Veggie Sandwich – Get some whole wheat bread, spread on some hummus and squeeze a little mustard on top. Smash 1/4 an avocado and spread that on the bread too. Add some tomato slices, cucumber slices and some spinach leaves and there you have a delightful sandwich! Serve with a side of soy yogurt and a banana.
10. Avocado and White Bean Wrap – Mash 1/4 of an avocado – add 1/4 cup of rinsed and drained white beans (from a can), mash the beans with the avocado. Add a little salt, pepper and garlic powder. Spread the avo-bean mix onto a whole wheat tortilla. Layer some tomato slices, and wrap up. Enjoy with veggie sticks on the side. Store easily in a ziplock or tupperware container.
11. Leftovers! – Turn last nights dinner into lunch the next day. Store easily in a ziplock or tupperware container. This works best if you have a microwave handy at work or if you don't mind eating leftovers cold.
See, having a healthy lunch at work is possible without having to cook anything! Make sure that when you're shopping for supplies you seek out healthy versions of foods – such as low-fat, low-sugar or low-salt.
If you have more time on your hands its easy to make brown rice or hard boiled eggs or grilled chicken or oats ahead of time and store in the fridge. You can then add whatever you need to your lunch and there you have more foods for more lunch ideas to work with!
Best of luck to you and be sure to share your favorite lunch ides in the comments!