Crossfit is a strength and conditioning program designed to increase ten levels of overall fitness. According to the Crossfit website, the ten general physical skills are cardiovascular/respiratory endurance, stamina, strength, flexibility, power, speed, agility, balance, coordination, and accuracy.
The fitness movement started in 2000 and is now practiced at over 6000 gyms in the country. But you don't have to go to a gym to enjoy the benefits of this intense fitness program. Follow these beginner workouts to get started in the Crossfit
world. The best part about it, it can be done at home. Below there are five workouts to start with and as your fitness level increases you can do multiple workouts in a session or add to the amount of rounds you complete.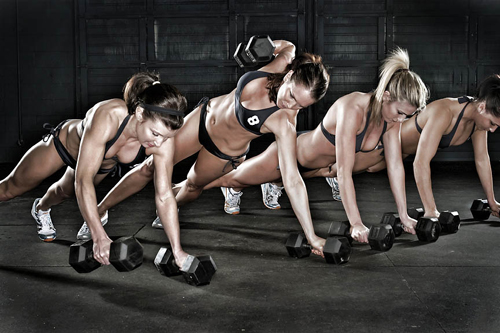 Workout #1
10 pushups, 10 squats, and 10 sit ups (5 rounds)
Workout #2
20 lunges and 10 pushups (5 rounds)
Workout #3
10 pushups and 5 burpees (5 rounds)
Workout #4
20 jumping jacks, 20 sit ups, and 20 squats (5 rounds)
Workout #5
20 Lunges, 10 pushups, 5 burpees, and 10 sit ups (5 rounds)
Photo courtesy of orangecoastcrossfit.com/crossfit-for-women