Hey there everyone! Been a busy week for me! How about everyone else? I hope you're all having a good December and keeping up with your diets and fitness routines as best as you can!
I was thinking of what to write about and I thought a yummy recipe share would be nice! And since a lot of you are 3 Day Diet users, I thought I would share with you a recipe that would be good for when you are on the 4 days off part of the diet. If you aren't a 3 Day Diet user then this recipe is just an all around healthy go-to recipe. Garlic Chicken and Vegetables! Feel free to add some brown rice to go along with it if you need some carbs.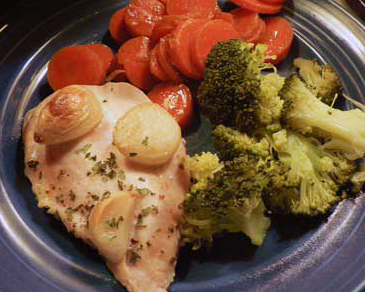 GARLIC CHICKEN
INGREDIENTS:
1 boneless skinless chicken breast
salt & black pepper to taste
10 cloves garlic, peeled
¼ TBSP olive oil
¼ cup chicken broth
¼ TBSP lemon juice
¼ tsp dried basil
¼ tsp dried oregano
1 tsp flour
½ TBSP chicken broth
DIRECTIONS:
Season chicken on both sides with salt and pepper to taste.
Brown chicken and garlic in hot oil in a large saute pan.
Add broth, lemon juice, and spices.
Bring to a boil, then reduce heat, cover and simmer 6-8 minutes or until chicken is cooked through.
Remove chicken and garlic from pan and keep warm.
Mix together remaining broth with the flour and mix into the pan juices, stirring briskly.
Bring to a boil and cook until thickened.
Serve sauce with chicken and garlic. Enjoy with a side of steamed veggies.
Our 3 Day Diet app can be found here for Android. And here for iPhone users. If you have the app, and you found it helpful please give us a 5 star rating in the reviews. Thanks!