Working out is hard to do. First it takes the motivation to get out there and do it, and then it takes the energy to get the most out of it. I have talked about motivation in a previous post here. But for energy, we need fuel – and that fuel is food, of course. But not just any food. Certain foods are great for providing work-out fuel. And I am going to share with you a couple recipes for pre or post workout fuel. These recipes are also found in our Flat Belly Diet Coach App for iPhone. The first is one of my absolute favorites, toast with nut butter and banana slices! I've been munching on this since I was a kid and its super tasty and full of carbs, healthy fats and protein. The cool thing about nut butter toast is you can do any kind of fruit, too, not just bananas. Also, try strawberry, kiwi or apple slices.
Flat Belly Diet! Cookbook
will also give you many more recipes that are Flat Belly Compliant.

Almond Nut Butter Toast with Banana Slices
Ingredients:
1 slice whole wheat bread
2 TBSP all natural almond nut butter (MUFA)
1 small banana, peeled and sliced
Directions:
1. Toast the bread.
2. Spread almond butter on toast.
3. Place the slices of banana on the nut buttered toast.
4. Enjoy!
Total Calories: 393
And next we have Broccoli and Avocado Omelette. This one is fantastic with your favorite salsa on top!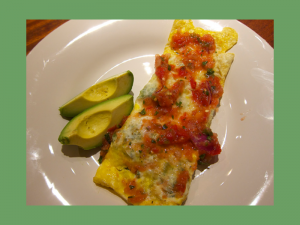 Broccoli and Avocado Omelette
Ingredients:
4 egg whites
½ cup steamed broccoli florets (bite sized)
⅓ cup low fat cheddar cheese
Nonstick cooking spray
¼ cup avocado, diced (MUFA)
salt and pepper
Directions:
1. Heat a medium-sized non-stick skillet on medium-low.
2. In a small bowl, beat egg whites and season with salt and pepper.
3. Once pan is hot, spray a light coat of cooking spray to coat the pan. Pour in eggs and rotate the pan slightly so the eggs coat the bottom of the pan.
4. Let the eggs cook a few minutes so they set, rotating the pan again if any egg remains uncooked, then place broccoli and cheese in the center and fold sides over.
5. Add avocado on top and enjoy!
Total Calories: 400
Both recipes are great fuel for workouts and they won't fill you up to a point where you can't move! Try them out before or after your next workout. And as a little bonus I'd like to share a little circuit workout routine based around jumping rope. If you don't have a jump rope, no problem, just jump as if you really had a rope and it works just fine! If you want to buy one, I suggest this Speed Rope
! A high quality rope will get you far! And the rest of the exercises require no equipment. If you have any questions about them, ask away in the comments… or any questions about the recipes too! Enjoy!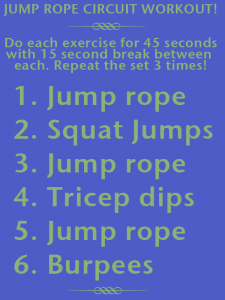 Get the Flat Belly Diet Coach app today in iTunes. It's got all you need + recipes to track and see weight loss progress on this diet.