One thing that has always motivated me in my weight loss journey is looking at Before/After or Before/During Progress photos. They can be so motivating! I appreciate anyone who shares these images of themselves. It's so encouraging to see others succeed! Am I right? And I am sure its rewarding for them to share their progress. They should be proud of their loss, even if you haven't made it to your goal weight.
Progress is progress, no matter how small!
Us over here at Women's Diet Network would love to share YOUR stories of success. We will include a little questionairre on how you did it and any tips or advice you have for others. Let's motivate each other! Want to motivate and inspire others? Or be inspired and motivated? This little bit of encouragement can go a long way! I was a little hesitant to share because it's hard to show your body to the world, but it is what it is: Here's my progress, from February of 2012 til March of 2013.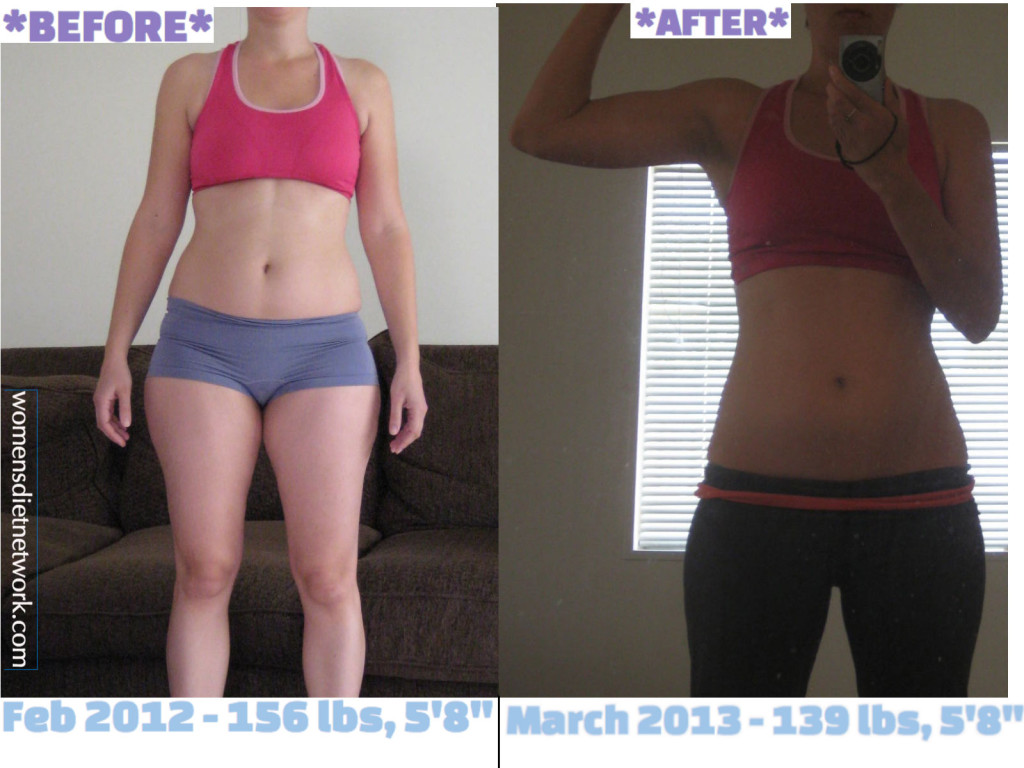 This is all from clean eating & adding exercise into my life at least 5 days a week (20-60 minutes at a time – sometimes more if I go on a hike). Cardio and Strength training (see the biceps I formed!). I do all my workouts at home or I go running, hiking, biking, walking. The workouts at home can be found right here on our website under "At-home workouts". The only weights I really have are two 2 lb dumbbells! I use other objects around the house, a resistance band and my bodyweight for strength training.
For my meals: I am a vegetarian, have been for 16 years, and eat mostly vegan actually. I avoid processed foods like the plague. I eat tons of veggies and fruits throughout the day. My protein comes from beans, tofu, tempeh, veggies, grains and protein powder. I do eat out probably weekly and splurge. I try not to punish myself. I look at this as a lifestyle change. I know by going out to eat once in a while, I am not going to gain back all the weight I lost in an instant. I need to enjoy life and splurge with food (I LOVE IT TOO MUCH!) in order for me to be motivated enough to continue.
Do you have a progress picture story to share? We'd love to feature you and help others to be motivated by YOUR success. It can be even "during" progress, you don't have to have reached your weight loss goal to participate. I think eating right and exercising is a life commitment anyway. I plan on doing this for the rest of my life anyway. It feels good and I feel good about myself. I hope we can all motivate each other and help one another.
Send me a message here and let me know you'd be interested in sharing YOUR story.

Does it motivate you to look at before/after weight loss photos?