Trying to lose weight can be difficult. I know, I know, this is nothing new! But hear what am about to talk about, it could help you! About 46 million Americans go on a diet each year and about 5 percent manage to keep the weight off. There are many ways to go about trying to lose weight. Tracking, following one of the thousands of fad diets, hire a trainer or dietitian, do bootcamps…. the list goes on and on.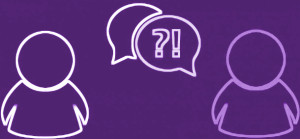 One of the best ways is social support groups – whether its online or in person – having someone to talk to and relate to has shown higher success rates than for those who try to do the weight loss thing all alone. Having someone there to give you motivational support and guidance is one of the most beneficial things you can do for your weight loss. I HAVE PROOF THIS IS TRUE!
"I wanted to give you an update: My husband and I are on day 3 of cycle 2. I have lost 21 lbs, he has lost 27 pounds. We are excited to see such quick results. That is what keeps us going! Our joints don't hurt like they used to and breathing is not as difficult either." ~Mrs. R
For the past year and a 1/2 I have been chatting daily with HUNDREDS of people on the 17 Day Diet, Paleo Diet, 3 Day Diet and 3 Day Military Diet. We currently have iPhone and Android phone apps for all 4 of these diets and within the app we have a support chat feature where you can ask me ANYTHING! I am not kidding, I will answer any question you have that is diet related. Whether it is about the diet you are currently on, or just diet/fitness/health related… at no extra charge. Pretty cool right! So, like I said before, I speak with 100′s of people daily and I get just as much out of it as the dieters who are talking to me. It's a pretty amazing experience. I have met so many wonderful people and HELPED so many wonderful people as well. It's so rewarding when I get comments such as:
"The app is essential to this amazing diet! It keeps you on track with meals, exercise and water. It provides recipes and foods that are allowed in each cycle. I cannot stress enough how PHENOMENAL the support is on this app! Whenever I have a question, it is ALWAYS answered! It's a flawless way to enter this diet!" ~Drea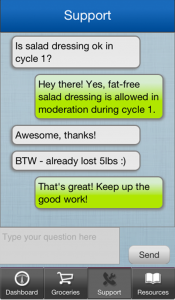 Having a person or group you can talk to can mean a world of a difference for anyone trying to lose weight. I personally give guidance, help, answer questions, motivation, a little push, ideas and much more for the people I talk to on a daily basis. I share recipes, website articles I think they'll find helpful, quotes, and I am always answering any questions they have in a timely period… Right there within the app! Whether you try out our apps for support, guidance and motivation or some other app – I highly suggest you find some kind of support group or mentor. It can help you so much in your journey. Why go it alone when you can have a helping hand to hold onto and give you the push you need.
One more compliment from another lovely 17 Day Dieter:
"I am so glad for this app! It is very helpful. I always have questions popping in my head and I love the fast response from the support center!" ~Ms. Z