It's just about that time of year again…. we start to see signs of fall: spicy smell of cinnamon, halloween decorations and candy at the store, autumn veggies, and that includes Pumpkins! A lot of friends on Facebook have been talking about their Pumpkin Latte's at Starbuck's and this excites me. I love this season! But, don't we all?!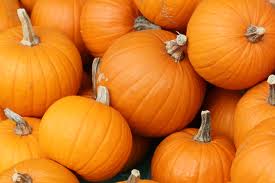 Speaking of pumpkins… Have you ever wondered what the health benefits of eating pumpkin is? Here are 10 health benefits just for you:
Orange vegetables like pumpkin, sweet potato, carrots and butternut squash carry the antioxidant Beta-Carotene. This has been known to possibly play a role in cancer prevention. PLUS, the seeds of the pumpkin have sterols in them that have been linked to fight off some cancers, too! So save the seeds and roast them for an extra tasty treat plus extra health benefits.
Speaking of seeds – Pumpkin Seeds (along with other nuts and seeds) contain phytosterols that have been shown in studies to reduce LDL or "bad" cholesterol.
Pumpkin seeds are also a rich source of protein. One ounce of pumpkin seeds contains approx. 7 grams of protein.
One more benefit of pumpkin seeds is the amino acid Tryptophan – I am sure you've heard of this being in turkey and it making you sleepy, but that's not all it does. It also is important in the production of seratonin which helps raise our spirits and puts us in a good mood!
Pumpkin has 7 grams of fiber per 1 cup serving or pumpkin puree. This is also only about 83 calories. Fiber has been known to help people feel full longer, so you have the desire to eat less, which in turn helps with weight loss. Fiber is also really good for digestion and keeping you "regular", if you know what I mean.
Pumpkin is an excellent source of Vitamins A and E. Both are great for immunity – and keeping you well!
Speaking of your immune system – 1 cup mashed pumpkin contains nearly 20 percent of the 60 milligrams of Vitamin C that is recommended for women daily.
Pumpkin is high in iron – this also helps keep you from getting sick by supporting a strong immune system.  For women, a 1 cup serving of pumpkin gives you 20% of your daily required iron intake.
For smooth skin – pumpkin contains carotenoids which can help keep the skin wrinkle-free and may also keep cancer cells at bay according to Health Magazine.
Pumpkin has more of the refueling nutrient potassium than bananas! After a heavy workout, potassium can help restore the body's balance of electrolytes and keep muscles functioning at their best.
Here is a simple yet tasty pumpkin smoothie recipe for your enjoyment! Great for cycle 2 of the 17 day diet.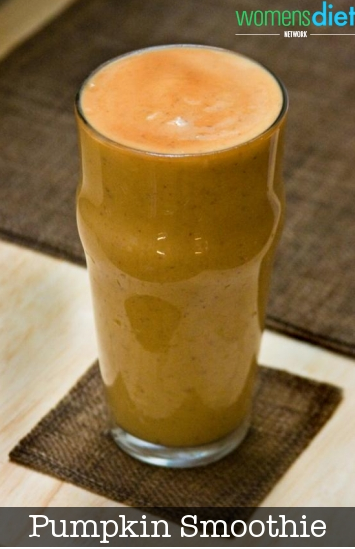 PUMPKIN SMOOTHIE
1 1/2 cup pumpkin puree
2 cup almond milk
1/2 cup vanilla yogurt
1/4 cup brown sugar
2 tsp ground cinnamon
Toss everything in blender, blend until smooth and creamy. Pour into glasses and enjoy!