Whip up this Black Bean and Tomato Quinoa Salad for a delicious entree to satisfy your body and soul.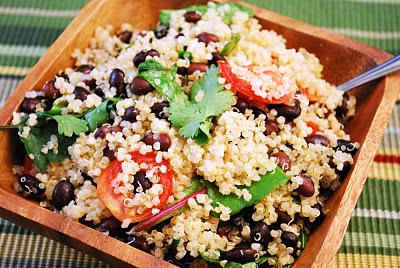 Ingredients
2 teaspoons grated lime zest
2 Tablespoons fresh lime juice
2 Tablespoons olive oil
1 cup quinoa, washed
1 can black beans, rinsed and drained
2 medium tomatoes, diced
4 scallions, chopped
1/4 cup chopped fresh cilantro
Instructions
Whisk together first four ingredients with 1/2 teaspoon sea salt and 1/4 teaspoon pepper in a large bowl and set aside.
Bring 2 cups water and 1 cup quinoa to a boil in a medium pot with 1 tablespoon salt. After it reaches a boil reduce the heat to medium-low, cover, and simmer until tender, about 10-15 minutes.
Remove pot from heat and remove lid. Let stand for about 5 minutes.
Add quinoa to dressing and toss until dressing is absorbed, then stir in remaining ingredients and salt and pepper to taste.
Optional: Beef this up with a little extra protein. Dice up a block of firm tofu and add it to the mix.
Which would you prefer when preparing food for your diet?