Are you following The Blood Type Diet and wondered what you should eat? I am here to help!
See our apps for the Blood Type Diet, if you're interested in starting a diet based on YOUR blood type:



In case you didn't know – Type O is the most popular blood type… Type O+ to be exact. So, I decided to offer up a couple healthy recipes for Type O's.  Enjoy!
Broccoli Beef with Brown Rice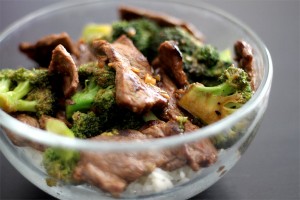 3 TBSP arrowroot powder, divided
1/2 cup water, plus
2 TBSP water, divided
1/2 tsp garlic powder
1 pound boneless round steak, cut into 3-inch strips
2 TBSP olive oil, divided
4 cups broccoli, cut into bite size pieces
1 small yellow onion, diced
1/3 cup reduced sodium soy sauce
2 TBSP brown sugar
1 tsp ground ginger
cooked brown rice
1. In a bowl, combine 2 TBSP arrowroot powder, 2 TBSP water and garlic powder. Mix until smooth.
2. Add beef to the bowl and toss.
3. In a large pan stir-fry the beef in 1 TBSP of oil over medium-high heat until beef reaches desired doneness. Remove from pan and keep warm.
4. Add broccoli to the same pan. Stir-fry it with the onion in 1 TBSP oil for 4-5 minutes.
5. Return the beef to the pan with the broccoli and onion. Stir.
6. In a small bowl, combine the soy sauce, brown sugar, ginger, remaining arrowroot powder and water. Stir until smooth. Add to the beef, broccoli and onion pan.
7. Cook and stir for 2 minutes until heated through. Serve over cooked brown rice. Enjoy!
Blueberry Banana Almond Milk Smoothie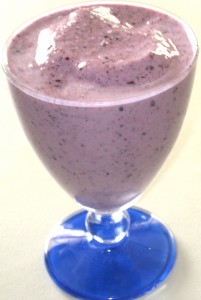 1 cup blueberries
1 frozen banana, peeled
1 cup almond milk
1. Blend all ingredients, pour into a cup and enjoy!
The Blood Type Diet is a diet you follow based on your blood type. The premise is you eat foods that are beneficial to your blood type and avoid foods that are not right for your blood type. We have an easy to follow guide for your smart phone – iPhone or Android.
If you already have our app and find it beneficial, please give us a review in the app store! Thanks! Hope you enjoy these recipes. I'll be posting more for other types very soon, so keep your eyes open and visit us often!
Buy the book for the blood type diet now: Eat Right For Your Type.